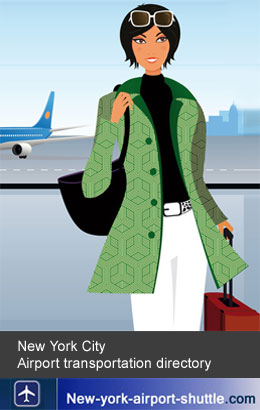 Terms of use
This web site, its documents and publications are provided without warranty of any kind, either expressed or implied, including, but not limited to, the implied warranties of merchantability, fitness for a particular purpose, or non-infringement. New York Airport Shuttle assumes no responsibility for errors or omissions in this web site or other documents which are referenced by or linked to this web site.
References to corporations, their services and products, are provided without warranty of any kind, either expressed or implied. In no event shall New York Airport Shuttle be liable for any special, incidental, indirect or consequential damages of any kind, or any damages whatsoever, including, without limitation, those resulting from loss of use, data or profits, whether or not advised of the possibility of damage, and on any theory of liability, arising out of or in connection with the use or performance of this information. This web site could include technical or other inaccuracies or typographical errors. changes are periodically added to the information herein; these changes will be incorporated in new editions of the web site. New York Shuttle website may make improvements and/or changes to the product(s), service(s), informational dissemination, or links described in this web site at any time.
Privacy statement
The privacy of our visitors matters to us. We do not make names, addresses, telephone numbers, e-mail addresses, or any other personal information available to any companies or individuals except for those that are directly involved in the delivery of the services that you have requested.
Contact
More information please contact : Contact [@] New-york-airport-shuttle.com
New york airport transportation directory: Companies offering chauffeur-driven vehicles with specialized drivers: Door-to-door transport of passengers between Newark, JFK , Laguardia Airport and NYC hotels, airport shuttles, taxis fares, bus and coach services.